Hidden Valley is not just any retreat but a paradise hidden from the world. Famous for being a Hotel that is Pet Friendly with accommodation that is private, secluded and fully self contained. Hidden Valley is the perfect environment for anyone looking to rest in the natural peace and tranquillity of the rain forest, listening to the birds and the running waters of the natural brooks passing the cottages. Whilst you sit on your own veranda taking in the natural beauty of the bushland and wilderness that abounds you. Sipping a fine wine picked up on the days travel into the valley or just sitting by the open fire listening to your favourite music. The adventure begins from the very moment you turn into the 2.5 kilometre driveway that meanders through the forest running alongside the river. Once you cross over the small wooden bridge you have entered paradise. Hidden Valley is just that, Hidden, with no neighbours for miles you only hear the water and the trees, you have arrived.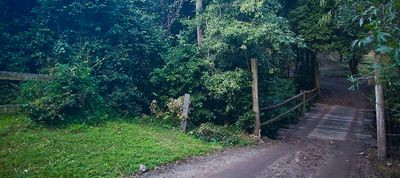 Imagine
Your own slab settler's cottage on the verge of the Grose Wilderness - as featured on "Getaway". Open fire, double spa bath, with complimentary champagne, toiletries, bubble baths, candlelight and Stereo. Fully self-contained kitchen with private gas BBQ.
Choose from the Cabbage Tree Cottage, Magnolia Cottage, Jacaranda Cottage, Willow Cottage and the Mud Brick Cottage - each with its unique personality. Enjoy the tennis court at the main homestead or the many activities of the Hawkesbury / Lower Blue Mountains or go no further than the couch on the verandah. As much to do or as little as you like.
Helicopter access
Disabled access
Marquees by arrangement for parties & small conference groups.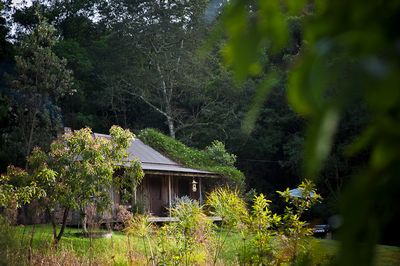 What the Press have said
"Every now and then you come across a property that you'd rather keep to yourself and Hidden Valley Retreat Cottages belongs to this exclusive stable. Carved from the rugged forests on the edge of the Grose Vale wilderness, Hidden Valley is the perfect place to get in touch with the sights and sounds of Australian bushland while indulging in the luxuries of life. Accommodation consists of four slab cottages and a mud brick cottage. The slab cottages look like something out of a Frederick McCubbin painting. There's a verandah at the front, a chimney at the side and couches or a ham mock on the verandah.

Native wildlife may be seen by early risers, a gurgling spring fed creek provides secluded picnic spots and also supplies the cottages with pure water and forested hills ring with native birdcalls all a 60 minute drive from the Sydney Harbour Bridge.

Wheelchair access and small conferences are available"

Weekends for Two
Now the things our guests tell us.